| | | |
| --- | --- | --- |
| | News | |
Healthy Showing at Devon Development Galas
| | | |
| --- | --- | --- |
| 25 June 2015 Our competition season continued with a healthy showing at the Devon Development Galas held at the Life Centre on the 6, 7 and 13 June. 13 of our young swimmers made an impressive contribution to an enjoyable meet, coming away with 10 medals of all colours and a host of PBs. The most eye-catching performances were probably those of Scott George, who was delighted with his full set of Gold (200 Backstroke), Silver (200 Freestyle) and Bronze (400 Freestyle). However, Scott's story at this meet was also one of what-ifs, with disqualifications costing him 2 Golds and 1 Silver. | | Medals of all coloursJames, Jasmin and Scott show off their medals |
Scott's great friend and rival James Coleman produced probably the most astonishing performances of the DRSA swimmers. With just a couple of training sessions under his belt following a 3-month rest due to injury, James turned up just for the experience and with no expectations. James amazingly won Gold in the 200 Breaststroke on the first weekend, before taking part in the 400 Freestyle one week later. With Scott in Lane 0 and James in Lane 1, the pair were inseparable for the whole 16 lengths, with James pipping the in-form Scott by one hundredth of a second to claim Silver. Jasmin Coleman was not to be outdone by her brother and claimed Gold in both the 100 and 200 Breaststroke and a Silver in the 100 Freestyle, while Isobel Abernethy rounded off the medal count with a fine Bronze in the 100 Backstroke and a medal for 5th place in the Skins event. There were also many PBs for our other athletes; as well as the above swimmers, PBs were achieved by Tia Crews, Georgia English, Toby Marks, Mia Steele and Phoebe Stentiford. Special mention on the PB front has to go to Lois Philips, though, who achieved PBs in all 7 of the events she entered, a fine consolation for just missing out on 2 medals with 4th place in the 200 Breaststroke and 100 Backstroke. Aiden Symons-Brown, meanwhile, achieved a fine 4th place in the 200 Breaststroke as well as 2 PBs. Hannah was very pleased with the team's performance. She had special praise for Isobel Abernethy, who became the first DRSA swimmer to qualify for the Skins event since she became Head Coach in 2013. Hannah was delighted with the "cracking PB" Izzy achieved in the event. Hannah was also delighted for Georgia England, who was taking part in her first Level 2 meet: "Georgia swam fantastic, pulled out strong swims for her age group and achieved times that she can build on for the future."
Impressive Haul from Long Journey
| | | |
| --- | --- | --- |
| 24 June 2015 Devonport Royal Swimming Association's Masters team continued their excellent season at the recent British Long Course Championship held in Manchester. Devonport made the long journey with a small squad of just 5 swimmers but managed an impressive haul of 6 medals, including two Gold medals. Devonport's squad included regular swimmers David Smith, 60 and Terence Li, 22 (also a University of Plymouth swimmer), who were joined by University of Buckingham student Issac Lom, 21 and Kwum Wong, 19 and Shun Wan, 20, both visiting from Hong Kong looking to gain some racing experience. | | Successful relay teamFrom left: Terence Li, Shun Wan, Kwun Wong and Isaac Lam |
The relay team featuring Li, Lom, Wong and Wan won a gold in the Men's 72+ age group, 400 meter freestyle relay in a time of 4:13.51 and in the 800 meter freestyle relay in a time of 10:04.37. The relay team followed these Gold medals up with a Bronze medal in the Men's 72+ age group, 200m medal relay which saw Terence Li set a new Personal Best time for his 50m Backstroke in a time of 32.81. The team finish with a time of 2:04.71 an impressive 4 seconds ahead of the fourth placed team. Individual glory came from David Smith in Men's 60-64 age group in the 50m Breaststroke and Backstroke. Smith appeared to be the master of the tight, winning the Silver medal in the 50m Backstroke in a time of 35.68, 0.01 of a second before the third placed swimmer Eddie Riach from Milngavie and Bearsden. Smith also finished second in his favoured event, 50m Breaststroke in a time of 36.52 again, beating the third placed swimmer, Graham Pearson from Carlisle Aquatics, in 0.01 of a second.
Success at South West Championships
| | | |
| --- | --- | --- |
| 9 June 2015 Andrew Keeler recently competed at the South West Championships at the Life Centre where he achieved great success in his first 50 metre competition. Andrew, who has a Paralympic S14 Classification, received a Gold medal for 100 metre Freestyle, Silver for 50 metre Freestyle, Silver for 100 metre Butterfly and Bronze for 200 metre Freestyle. Andrew competed over 2 days and was delighted with his results. He achieved a personal best time in the 50 metre freestyle and said he really enjoyed racing in the 50 metre pool. He has now stepped up his training and his next competition is the 50 metre Sprints to be held in Gloucester on Sunday 5 July. We wish him luck and look forward to hearing how he gets on there. | | Andrew KeelerWinner of 4 medals at the ASA South West Championships |
Beth off to Azerbaijan
| | | |
| --- | --- | --- |
| 31 March 2015 Beth Ward, our GB U17 Ladies Water Polo player, is to travel to Baku, Azerbaijan, in June with the rest of the team to take part in the European Games. The GB team qualified for the games in Nice recently, coming second in a qualifying group consisting of France, Switzerland, Portugal and Czechoslovakia, losing only to the French. The Water Polo tournament for the European Games runs from the 12-20 June in Baku and will feature the top twelve female and male teams in Europe. | | Baku boundBethany will be representing GBin the European Championships. |
It was a busy build-up to the qualifying tournament for Beth, since the February half term she has represented the South West region in the ASA Inter-regional championships in Walsall, where she was voted the team's most valuable player, she then went to Germany with the GB squad for a training camp, followed, a week later, by a four-nation tournament in Slovakia.
Exeter Sprint Meet September 2015
5 June 2015 The Exeter Sprint Meet will be held at Pyramids Swimming Pool, Exeter, EX1 2LA, on Sunday 13 September. Billed as a fun day to start the new season, entries will be on a first come first served basis.The closing date for entries is Friday 7 August 2015. This meet filled up very quickly and was full last year before the closing date. Click here for the Meet pack.
Brian Ferrand 1943-2015
| | | |
| --- | --- | --- |
| 30 May 2015 It is with great sadness that we announce the sudden passing of Brian Ferrand after a short illness. Brian was known to many of us as a coach to our younger swimmers, and was until very recently still coaching every Monday evening at the Life Centre. Brian joined DRSA in 1951 and remained a member of the club for the next 64 years. In his youth Brian represented DRSA as both a swimmer and water polo player, and in 1967, when he returned to the Plymouth area with the Royal Navy, he took up swim teaching. Over the years Brian taught hundreds of children, among them a 7 year old Sharron Davies. He taught with the club whenever his duties took him to Plymouth and continuously since 1995. Brian was a very proud member of DRSA. He was very keen to share his knowledge of the club's history, and last year he penned his reminiscences of DRSA (click here to read Brian's reminiscences) and what he described as some of the club's legends. It is no exaggeration to state that, after 64 years of unbroken membership and service to DRSA, Brian himself deserves to be remembered as a club legend. | | Brian Ferrand President of the British Long Distance Swimming Association 1996-97DRSA member 1951-2015 |
Masters continue to shine
| | | |
| --- | --- | --- |
| 14 May 2015 Devonport Royal Masters continue with their impressive form this season at the Royal Navy Masters competition, held at Millfield pool. The Masters' team travelled with a team of 11 swimmers, considerably smaller than the winning team from Basingstoke Bluefins, but managed to pull together and finish with a total of 226 points finishing third in the team competition of 55 teams from around the country. Stand out performances come from Paul Russell, 63 and Lewis Young, 21, who both won their respective age group competitions. | | "Most enjoyable team"From left to right: David Smith, Lewis Young, John Wright (coach), Hannah Ball, Paul Russell, Michelle Chopra, André Roberts, Jason Quiterio, Tyran Botha, David Manning, Robert Will, Susan Smith |
Individual performances were also of a high standard; with a total of 43 medals including 13 Gold medals. André Roberts, 21, who is currently training to swim the British Channel in September, started Devonport's collection off with a Gold in the Men's 18-24 400m Freestyle in a time of 5:06.03. Jason Quiterio, 30, won the second Gold in the Men's 30-34 100m Butterfly with a Personal Best time of 1:04.15. After the race, Quiterio said, "the 100m fly is not a fun race to start an event, especially swimming if it's before 10.30am, but I am pleased with the time and it is nice to get a PB!" Paul Russell then picked up his first Gold medal of the competition in the same event in a time of 1:37.31. Robert Will, 39, retained his Men's 35-39 50m Breaststroke crown in a time of 31.97, which moves him within 0.2 of a second to the National number 1 ranking position for the event. David Smith, 60, not to be outdone by his teammate, also won a Gold in the Men's 60-64 in the same event, in a time of 35.27, a PB on the time set in Gloucester 2 weeks earlier. The Men's 50m Freestyle proved to produce some fast times from all swimmers with Robert Will winning a Gold in the Men's 35-39 in a time of 26.75. The event also saw Tyran Botha and Quiterio race head to head for the first time since the Saltash event in January. Both swimmers broke the 26 second mark, with Quiterio setting a new PB in a time of 25.94 and Botha beating his teammate on the touch in a time of 25.77 to win the Bronze medal. Will, Quiterio and Botha were joined by David Manning, 62, in the Men's 160-199 200m Medley Relay to win Gold in a time of 2:04.43, beating the team of the Royal Navy by 0.15 of a second. Roberts was then joined by Lewis Young, 21, Hannah Ball, 22 and Michelle Chopra, 35, for the Mixed 72-99 200m Medley Relay, where they finished in an impressive second place to win the Silver medal. Young picked up Devonport's next Gold medal in the Men's 18-24 200m Freestyle in an impressive time of 2:08.19 and Botha also collected a Gold in the same event in the Men's 30-34 in a time of 2:13.47. David Manning and Paul Russell then went head to head in the Men's 60-64 100m IM. Manning took the Gold in a time of 1:20.00, moving him up to fourth in the national rankings. The pair then raced off again, joined by teammate David Smith, in the Men's 60-64 50m Butterfly, with Devonport winning a 1, 2, 3 for the event. Gold medal going to David Smith in a time of 31.47, moving him to number 1 in Britain for his second event. Manning then added to his medal collection with a Gold in the Men's 60-64 100m Freestyle in a time of 1:09.51. Devonport Royal's final Gold medal of the competition come in the Men's 160-199 Freestyle Relay in a winning time of 1:48.95. The team of Quiterio, Botha, Will and Manning beat the Royal Navy team by a narrow 0.24 seconds. Masters' Coach, John Wright said after the event, "that was an amazing team performance. This is the most enjoyable team I have ever coached and to see the performances improve like this is great. We have swimmers now ranked in the top 5 in Britain and Masters swimming their fastest times ever." Special mention should also go to Susan Smith, 61, who only started to swim when she was 40. Smith set a new PB in the Women's 60-64 50m Freestyle in a time of 43.68 to win her first ever Silver medal and move into the top 8 in Britain.
Double Winners
11 May 2015
| | | |
| --- | --- | --- |
| | Devonport Ladies Water Polo TeamWinners of the Devon County League 2014/15 and the Devon County KO Cup 2014. | |
Masters shine at Gloucester Masters Meet
| | | |
| --- | --- | --- |
| 28 April 2015 Danny McSweeney continued with the high standard set at the Caradon Meet with an impressive medal haul of three golds and two silvers at the Gloucester Masters Meet, with our team picking up 12 medals in total. Competing in the male 2529 age group category, Danny won his Gold medals in the 100m Breaststroke, 50m Breaststroke and 100m Individual Medley, with a lifetime best time set at 1.03.75. Danny's 100m IM time currently ranks him in third position in Britain for his Masters age group. Danny also picked up a Silver medal in the 50m Freestyle and Butterfly events. | | Impressive medal haulFrom left to right: Danny, Michelle, Susan, David and Jason. |
Jason Quiterio, swimming in the male 3034 age group, also picked up an impressive collection from the gala, winning a Gold in the 100m Butterfly, in a Personal Best time of 1.04.28. This time, like his Devonport teammate, now ranks him inside the top 10 in Britain for his Masters age group. Quiterio also picked up a Silver and a Bronze in the 50m Freestyle. In her solo event of the gala, Michelle Chopra, swimming in the female 3034 age group, finished in an impressive second place for the 200m Freestyle. Completing the Devonport Royal Masters' team were husband and wife team, David and Susan Smith, both swimming in the 6064 age group. David picked up a Gold in the male 50m Breaststroke with an impressive swim in a time of 35.80. This time now ranks David as number 1 in Britain within his Masters age group. David followed this remarkable swim with another strong performance in the 50m Butterfly, finishing in the Bronze medal position. Completing the impressive medal collection by the team was Susan Smith, who picked up a Bronze medal in the female 50m Breaststroke event.After the event Jason Quiterio said: "This was a really enjoyable event, possibly the best I have done since joining the Masters team. We have come away with a small team this time but have continued to compete at a high standard. We are all looking forward to the rest of the season and seeing what we can achieve with more hard work."The team will next compete at the Royal Navy Masters at Millfield pool on 3rd May.
Tough Opening Weekend
28 April 2015 We started off our Cornwall and West Devon league campaign with a disappointing fifth-placed finish. The opening round saw us compete against Plymouth Leander Yellow Team (who were the eventual winners), Penzance, Torridgeside and Carn Brea Helston.The opening round offered the opportunities for many first-time swimmers to gain experience in a big competitive event. The stand-out performance from the gala was Scott George, 9 years old, who swam in seven events in the 11 and under age group. Head Coach, Hannah Ball, felt there were many positives from the event: "We fielded a full team and competed in every event, despite suffering a few injuries and missing some key swimmers due to exam pressures." Many swimmers picked up Personal Best times, including Jonathan Christie in the 100m Backstroke, finishing third in a strong field and Jason Quiterio, in the 100m Butterfly, finishing second, in the Open age group. Both swimmers were then joined by Nathan Galagher and James Allinson for the Open Freestyle Relay where they just missed out on the victory, losing to a strong team from Plymouth Leander.The club are now looking forward to the next round on the 21st June, with Club Secretary Paul Russell vowing the club will "come back stronger" for the next round.
The OSS Bantham Swoosh
14 April 2015 The Outdoor Swimming Society has a new event on its annual event calendar: The Bantham Swoosh, a 6km swim in a sandy bottomed estuary in Devon on Sunday 5th July. The swim will take place on Sunday 5 July on an outgoing tide. Tickets cost &pound70 and are sold singly or in pairs. The finish of the swim (where parking and registration are also found!) is Bantham Beach TQ7 3AJ. You'll need to be able to swim 5km confidently. The swoosh occurs as the estuary narrows at the end, making the volume of water in it speed up. You are not swooshed from start to finish. The event will be open to 16s and above. Click here for further details.
2015 Schools Gala - A Fantastic Celebration
5 March 2015 By Robert Coleman

Our 2015 Schools Gala was another fantastic celebration of swimming, with the enthusiasm of both parents and children creating another great atmosphere at what is an undoubted highlight in our calendar.

The first schools up were the primary schools (Boringdon, Compton, Goosewell, Kings School, St. Georges, Stoke Damerel, Stowford, Woodford and Yealmstone Farm), with the events swum in two heats and a final. In the primary girls' event Stowford 1 were clear winners, with Stowford 2 just pipping Compton for Silver. The primary boys' event was also keenly contested, with Boringdon winning gold ahead of Compton and Stowford.

Next up were the senior schools, and this year there was a new category for 11-13 year olds, and new silverware. The new shield for the boys' event was donated by the Old Suttonian Association, while the trophy for the girls' event was donated by the Plymouth Ski Centre. The schools that competed were Devonport High School for Girls, Hele, Ivybridge and Stoke Damerel. The first winners of the Sutton High Memorial Shield for the boys race were Ivybridge 1, with Hele and Ivybridge claiming silver and bronze respectively. The winners of the girls race, and therefore the first winners of the Plymouth Ski Centre Trophy, were Ivybridge 2, who were followed home by Devonport High and Ivybridge 1. The final two events were the senior events with Devonport High, Ivybridge and Plymouth College competing in the girls' race and Ivybridge and Plymouth College in the boys' race. Both races were swum as straight finals. The girls' event was another close race with Plymouth College 2 edging out Plymouth College 1 and Devonport High. In the senior boys' event, probably the closest race of the day, Plymouth College 2 finished just ahead of Plymouth College 1 and Ivybridge.

A huge Thank You goes to all of the swimmers, parents and volunteers who made this another excellent evening of entertainment.

All of the races were filmed, click here if you wish to relive the excitement of the evening.


Primary Girls: From left to right, Compton (Bronze), Stowford 1 (Gold) and Stowford 2 (Silver).
| | | |
| --- | --- | --- |
| | | |
| Primary Boys Bronze: Stowford | Primary Boys Gold: Boringdon | Primary Boys Silver: Compton |
Intermediate Girls: From left to right, Ivybridge 1 (Bronze), Ivybridge 2 (Gold) and Devonport High (Silver).The new trophy was donated by the Plymouth Ski Centre.
| | | |
| --- | --- | --- |
| | | |
| Senior Girls, left to right: Plymouth College 1 (Gold), Plymouth College 2 (Silver). Devonport High finished third. | Thank you to the Old Suttonian Association | Thank you to the Plymouth Ski Centre. |
| | |
| --- | --- |
| | |
| Senior Boys, left to right: Ivybridge (Bronze), Plymouth College 2 (Gold) and Plymouth College 1 (Silver). | Intermediate Boys, left to right: Ivybridge 2 (Bronze), Ivybridge 1 (Gold) and Hele (Silver). The new shield was presented by Robert Coleman (in red) and Terry Mansell, both former pupils of Sutton High School. The shield was donated by the Old Suttonian Association. |
Help André Swim the English Channel
16 February 2015
Later this year DRSA member André Roberts will be attempting to swim the English Channel. In order to help fund his costs, André is "crowdfunding". Click here to read more about André's story and to help him raise the funds he needs. Good Luck André!
Masters Impress at Caradon Meet
13 February 2015
Devonport Royal Masters swim team have made an impressive start to the 2015 swimming calendar by taking the Top Male, Top Female and Top Club award at the Caradon Masters and Senior meet held in Saltash last weekend. Devonport won the Top Club award by an impressive 258 points ahead of second placed Caradon who scored 130. Devonport saw their largest Masters team race, with a total of 15 swimmers aged 18 to 68. In total Devonport took a total of 42 gold medals, including the Men's 120-159 Combined Age Group Freestyle and Medal Relay, Mixed 72-99 Combined Age Group Freestyle and Medal Relay and Mixed 160-199 Combined Age Group Freestyle and Medal Relay. Top Female, Rebekah James, 20, won an impressive 9 gold medals including the 200m Butterfly that she completed immediately following her victory in the 100m Breaststroke. The Top Male award was awarded to David Manning, 62, who was competing in his first competitive competition as a Devonport Royal swimmer. David won a total of 8 gold medals, including the 50m Freestyle where he just edged out teammate Paul Russell, 63 to take the gold in the Men's 60-64 category in a time of 32.72. The 50m Men's Freestyle races also featured a close battle between teammates, Tyran Botha, 33, Terence Li, 22 and Jason Quiterio, 30, with Tyran taking the gold in the 30-34 category in a time of 26.63 and Terence Li taking gold in the 18-24 category in a time of 26.75. Joining the impressive medal collection was Michelle Chopra, 35, who took a total of 4 gold medals. The competition also marked the return to swimming for former Plymouth Leander and Combined Services swimmer, Danny McSweeney, 29, who finished 4th in the Top Male competition and bagged an impressive total of 6 gold medals, including a gold in the Men's 25-29 category for the 50m Breaststroke that saw him narrowly beat teammate and the Devon County 100m Breaststroke silver medalist Rob Will. Speaking after his first race, Danny said, "it was a really well run event, with a great atmosphere, especially between the Devonport team." The Devonport Masters team, sponsored by Bowden Physio, have gradually grown in size and strength over the past year under the experienced guidance of John Wright. John feels that "it is through the hard work in training that the team confidence to compete has grown." The Masters squad, who train three times a week at the Life Center, are now focusing on their next competition in April at Gloucester where they will be hoping to improve on some impressive results and times from this weekend. Photo from left to right: David Smith, Jason Quiterio, Paul Russell, Michelle Chorpa, Rachel Ward, Rebekah James, André Roberts, Terence Li, Darren Green, Rob Will, John Wright (coach), Tyran Botha, David Manning, Danny McSweeney, Andrew Keller and Denise Ward.
Ladies Devon County KO Cup Winners
22 December 2014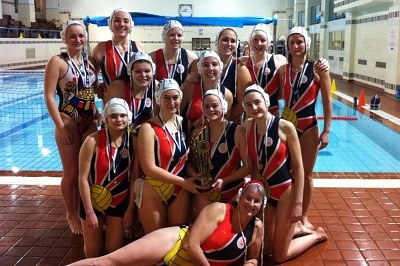 Our Ladies Water Polo team continue their progress, the latest achievement was winning the Devon County KO Cup.It was an emphatic win for the team, crushing Exeter Ladies by 19 -7. Our Ladies played well from the start and were soon ahead, and their relentness pressure on the opposition meant that the goals kept coming.It was a good overall team performance by the Ladies.
Bronze Medal for Toby
9 December 2014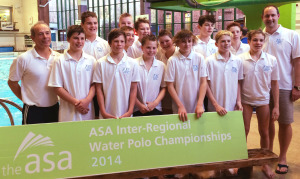 Toby Marks (third from left), a member of our U15 Water Polo Squad, pictured with the South West Regional team that played in the Inter District Tournament at Walsall. The team were Bronze Medal winners at the event.
Arena League Round 2
10 November 2014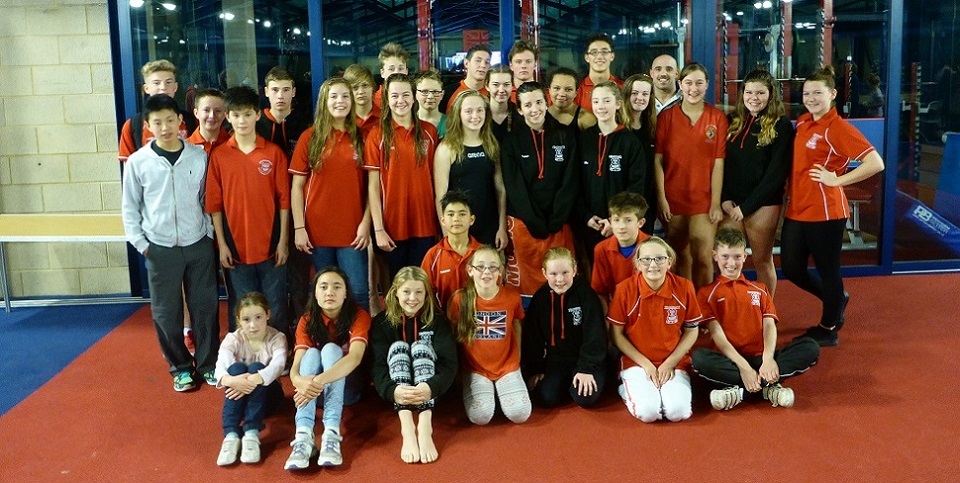 The Devonport team that competed at Millfield in Round 2 of the Arena League.
Pushing for Promotion
3 November 2014 As reported by the Plymouth Herald DEVONPORT Royal's Ladies sit in third place in the British Water Polo League in good shape for a promotion push after the latest round of results at Marlborough College. The city side are handily-placed in Division Three of the British League after defeating Southampton but losing narrowly to second-top City of Birmingham in their first fixture on Saturday. Owing to traffic pressures on the M5, Devonport only arrived at Marlborough 15 minutes before they were due in the pool to face high-flying Birmingham. But the Royals showed little sign of road-weariness and started the game with gusto. Two goals each from Angie Galea and Rachel Ward, plus a single strike from Jordan Parsons put Devonport 5-4 ahead at the end of the first period. Royals continued in similar vein in the second period with further goals from Ward and Parsons, but Birmingham fought back and by half-time the scores were 7-7. After the break Devonport pulled away from Birmingham again and by the end of the period, with further goals from Galea, Ward and Parsons, led the West Midlands outfit 10-8. Royals increased their lead to 11-8 courtesy of a Galea goal in the fourth before Birmingham rallied to level the score at 11-11 with just 30 seconds left on the clock. Despite their best efforts to net another, Royals could not put the match to bed as Birmingham rode their luck thanks to their goalkeeper and to the woodwork. The tie was decided with two seconds remaining on the clock, when a defensive error allowed Birmingham to score and win by a single goal. Devonport, having shaken off their disappointment of the first game, went off like a train against Sunday's opponents Southampton. They sped into a 3-0 lead at the end of the first period courtesy of goals from Robyn Greenslade, Galea and Ward and carried on in that fashion in the next phase, with further goals from Galea taking Devonport into a 5-2 lead at the halfway stage. Galea scored two more and improved Royals' winning margin to 7-3 at the end of the third period. The final session saw Southampton rally and net four times, but Royals were in no mood to succumb to pressure and they hit back with four goals themselves from their Great Britain Under-17 international Ward. The victory marks the end of the first phase of the British Water Polo League campaign. Devonport play again in November at Basingstoke when the lower teams from Division Two and the top teams from Division Three contest play-offs to decide promotion and relegation. Devonport are well placed to do well in the play-offs, an entirely different scenario to last season when Devonport were next to bottom.
Successful Defence of Mini Water Polo Title
22 October 2014
The Paignton Festival of Mini Water Polo has become a firm fixture in the local water polo calendar and is one that our mini polo players and coaches look forward to months in advance. We again entered three teams, the Destroyers, Dolphins and Dragons, while hosts Paignton and Newton Abbot entered three and two teams respectively. This is the third time in the last four years that Devonport has won this tournament, with Devonport's Destroyers being pushed this year all the way by Newton Abbot, eventually winning the tournament with a very impressive goal difference. There were some outstanding team performances on the day, and Devonport's coaching team on the day, Rob and Liam (Destroyers), Tom (Dragons) and Connie and Zoe (Dolphins) were very proud of their teams. The Dolphins deserve a special mention as this is the first time that our youngest team has won a match at this tournament, scoring with just seconds to spare to record a 2-1 win against Paignton's youngest team. Dolphins coach Zoe: "This is the first time many of the players have played in a tournament like this and they did very well, especially against the more experienced teams. They were led by their captain Eva who scored numerous goals throughout the day. Ben and Tom stepped up as the team's goalkeepers and both made some brilliant saves. Sophie, Evie, Willow and Charlie were also key players as they all were finding space and creating great goal-scoring opportunities. The team worked very well together and everyone played their part. They should all be very proud of their performance. We hope to return next year as a stronger team and will be a force to be reckoned with." Destroyers coach Rob: "Although we won the tournament on goal difference scoring a hatful of goals, the highlight for me was the quality of mini polo we played. In the opening match, against the eventual runners-up Newton Abbot, we adopted a diamond formation with Rhys in goal, Jessica as central defender/playmaker, captain Jasmin on the left wing, James on the right and Asa as centre forward. We played some eye-catching mini polo, racing into a 3-1 lead with goals from James, Jasmin and Jessica. However, as well as being talented, Newton Abbot are also stubborn opposition and denied us victory with two fantastic shots from distance that our onlooking senior water polo players would have struggled to save. Despite losing a two-goal advantage, I was delighted with our performance. I do not believe that I will ever see a better game of mini polo. I was also delighted with the performances of Lily, Abbie and Craig, who were asked to be patient in the first match and to watch and learn the team's formation. When they were called upon they did not disappoint, keeping the same diamond formation and contributing fully to the tournament victory." The Dragons can be pleased that they were one of only two teams to score against the Destroyers, with Adam (a better finish you will not see) and Max both finding the back of the Destroyers' net in a keenly contested match against their older and more powerful opponents. The MVP awards went to Jessica Garrad (Destroyers), Adam Greep (Dragons) and Phoebe Stentiford (Dolphins).
Arena League - Round 1
13 October 2014 By Harrrison Carrick, Boys Captain We travelled to Bristol on Saturday the 11th of October for round one of the Arena League Competition, completing this round of the competition with a 5th place finish. We started the gala with a slight disadvantage having 20 points deducted due to a late entry and no official available. Despite this, the team were well motivated and keen to do as well as possible with a number of notable performances including from James Allinson in his 100 metre fly individual race where he finished first by a considerable margin, Jess Manning winning her individual 100 metre butterfly and the boys 16 and over medley relay finishing 3rd despite the tough competition. Another positive aspect of the event was the support the whole team gave to their team mates whilst racing; this undoubtedly gave an extra edge to some great performances. We must now look forward to the next event, get some serious training in and ensure we populate the races more fully to compete on a more equal basis with all the teams - I'm confident if we do we can rise up through the ranks! Harrison
Medals at Millfield Long Course Masters Meet
13 October 2014
Our swimmers at the recent Millfield Long Course Masters Meet came up trumps, with Jason Quiterio and TeRence Li securing gold and silver medals in their respective age groups, although it could have been even better as Devon masters champion Michelle Chorpa had to pull out of the competition through illness. "It was great to swim at Millfield again - I haven't been back there to swim for over 12 years," said Quiterio, who finished first in his age group (25-29 years) gaining two gold medals, while Li secured two silvers (18-24 years). "I've taken half a second off my 50m freestyle personal best since June which is pleasing. My focus will now be geared towards the British long course Masters next year. And I'm pleased to announce that we will have two of our masters swimmers competing at the nationals in a couple of weeks' time. They are Rob Will and Hannah Ball and we wish them both the best of luck."
Ladies' Nerves of Steel Tested to the Limit
3 October 2014 The second weekend of Devonport Ladies' British Water Polo League season saw them again return to the City of Steel, Sheffield. It was to prove to be a major test of Devonport's endurance. Their first game of the weekend against Sunderland saw Devonport soon take command, with two goals from their captain, Rebecca Carling, and one from their GB U17 player Beth Ward. Sunderland did however pull back, and at the end of the first period Devonport's lead was only 3-2. The second and third periods proved to be decisive for Devonport and they rattled in ten goals with Rachel Ward, Caitlin O'Malley, Robyn Greenslade, Connie McGregor, Rebecca Carling and Beth Ward all hitting the back of the net. The final period saw Devonport keep up the pressure on Sunderland with a further two goals from Lucy Greenstreet and Connie McGregor, while Sunderland scored twice in this period. The final score was 15-5 to Devonport.Their second game was against top of the table English Roses, a side containing many former GB International players. Devonport started well, took the game to the Roses, and scored through Rachel Ward and Connie McGregor, the end of the first period saw Devonport in the lead by 2-1. This was the first time in the season that the Roses were behind. They continued to play well at the start of the second period, but the Roses' experience was soon to show, and they scored five goals to which Devonport were unable to reply. After the half-time break, Devonport revived themselves and scored three more goals, two from Rachel Ward, and one from Connie McGregor, with the Roses only managing to score once. Going into the last period, with the score 7-5, in favour of the Roses, it was anyone's game, and Devonport continued to take the game to the Roses, but it was not to be Devonport's day, as the Roses' greater experience showed, and they scored three times, without reply. The final score was 10-5 in favour of the Roses. Devonport can be very pleased with their performance against the Roses, they came the closest yet to beating them. Devonport are now in third place in division three of the British Water Polo League, and travel to Marlborough in Wiltshire, in mid October for the next tournament.
Great Start by our Ladies Water Polo Team
16 September 2014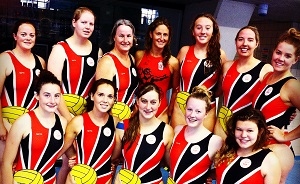 Our Ladies team travelled to Sheffield last weekend for the first tournament of six in the current British Water Polo League season. Despite a slow start, no doubt the effects of a six-hour journey, the team eventually got into their stride against London Polytechnic, winning by 11 goals to 6. On Sunday, they were fired up for the second game of the weekend, this time against Iceni from Norwich. Our Ladies were quick off the mark and were soon scoring goals, winning 28 - 6.It was a good team performance by our Ladies and they showed the progress they have made in the past year. They are now looking forward to their next weekend, again in Sheffield, at the end of the month.
2014 DRSA Sprint Gala
14 September 2014
Thank you to everyone who contributed to the smooth running of the 2014 Sprint Gala and made this such a fun event to participate in and watch. The results are now available in our Members Area. Every race was filmed and the links to the videos are also available in the Members Area, so you can enjoy the evening all over again.Click here to access the Members Area. Pictured is Rob Will on his way to an impressive victory in the 50m Breaststroke.
Duo Impress at County Masters Event
14 September 2014 Michelle Chopra and Rob Will bagged a magnificent seven medals between them at the Devon County Masters Swimming competition staged at Tiverton. Chopra, who was racing in the women's 30-34 year age group and making her competitive comeback after an absence of seven years, claimed two gold medals in the 50m and 200m freestyle. Will, meanwhile, weighed in with four golds and a silver medal in the men's 35-39 age group category.Will's county CV reads first in the 50m breaststroke (33:60secs), the 100m IM (1:11.10), 100m breaststroke 1:16.73 and 50 freestyle (27.74). His silver medal came in the 50m butterfly where he recorded a time of 30.94 seconds. Will was, unsurprisingly, delighted with his performance and the event and venue. "The Devon County event is a perfect meeting for swimmers who haven't raced in a while," said the former Port of Plymouth athlete. "It has a relaxed atmosphere and the standard is very mixed, so there is no need to be afraid of being left behind."Chopra, who only joined Devonport Royal SA back in April after previously competing for Barnstaple, added: "The event was great, it was well organised and run in a friendly atmosphere. "It was good to get back into racing after seven years out. I have missed it immensely." Chopra will now be focusing on preparing for the South West Masters at the end of September in the long course (50m pool), at Millfield School, in Somerset. She will be joined there by team-mates Jason Quiterio and Terence Li."The South West Masters event is likely to be the final one of the year for the team," said Quiterio. "Some of the swimmers may compete in the short course championship, in Sheffield, but the distance and a small racing team make it an expensive event. "Next year we are hoping more of the squad will step back into racing and help the squad grow."The masters squad train three times a week at the Life Centre and are trained by John Wright. Wright has worked with the masters at Devonport for the past 14 months has said he loves working with the Masters at Devonport. "They have a good mixture of swimmers from a wide standard, from developing their technique, to swimming for fitness up to National standard," he said.
Facebook

Follow us on Facebook.

Club Kit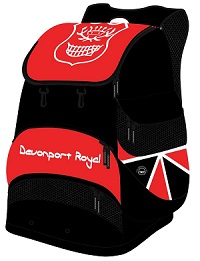 Visit our Shop to view our club kit. The club bag can be yours for £39.00.

Swim Team
Our Swim Team competes in the National Arena and Cornwall & West Devon Leagues

Masters Swim Team
Our Masters section caters for inexperienced swimmers as well as national contenders

Our Children In Need Fundraisers
We swim for fitness, for fun and occasionally for others

Athletes competing at a high level
Some of our athletes who took part in the Devon County Championships

Ladies Water Polo Team
Devon League & Cup Winners

Men's Water Polo Team
Winners of the Lamb Trophy

Mini Water Polo Team
Winners of the Paignton Festival of Mini Water Polo

Under 15 Water Polo Team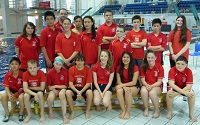 Competing in the Devon League