2015 DRSA Sprint Gala
29 September 2015 Well done to everyone who contributed towards and participated in a very enjoyable evening of swimming, and particularly to our young swimmers who were competing in a gala for the first time. The results of our Sprint Gala and videos of all of the races can now be viewed via links in the Members Area. If you need a username and password, please contact our General Secretary, Paul Russell (gensecdrsa@gmail.com).
Nomination Meeting
25 September 2015 The next meeting of the General Committee on Monday the 12 October will be the "Nomination Meeting" for the Association's Officers. Any nominations to be put forward for election at the Annual General Meeting in November need to be received by our General Secretary, Paul Russell (gensecdrsa@gmail.com), before the meeting and not during the meeting. The same applies for any proposed amendments to the Association's rules.
Devonport has another National Champion!
15 September 2015 Lewis Matti and Abigail Daly recently travelled to Swansea to compete in the British Disability and Learning Difficulties Swimming Championships.With over 150 competitors from 33 different clubs, Abi and Lewis chose a high level for their first licensed competition. And early on in the gala Abi had a period of adaption to go through as she got used to a gala where marshalling was required.At just ten years old she was the youngest competitor and narrowly missed a bronze medal in the 50 Metre Backstroke, she followed this up with a silver in the 25m freestyle and a bronze in her heat in the 50m freestyle, finishing 8th overall. Her time would come however, and in the afternoon she stormed to gold in the 25m backstroke. A return of three medals in four races alongside personal best times is a fantastic result for a young lady racing against athletes who were up to double her age, and we look forward to more fantastic performances from Abi in the future!
Lewis Matti aged 17 also had a good meet obtaining personal best times. His joy at winning his 50m backstroke and breaststroke heats were dashed as he knocked more than 15% off his entry times and was disqualified for swimming too fast! He obtained a 3rd place in his 50m freestyle heat and obtained a personal best time for his 100m freestyle the following day. While Lewis was unlucky to be disqualified for speeding, no coach will ever complain about a swimmer going too fast so a huge congratulations to Lewis who is also a champion in our eyes, and we are sure he will win many medals in the future.Abi and Lewis have both joined Devonport Royal in recent months from the Plymouth Life Centre Operator led disability session, coached by Sumaya Towers. Since joining DRSA Abi and Lewis have been coached by Sara Bossom and Alan Stoneman, so huge congratulations to Sumaya and her coaching team, Alan and Sara. Well done all!
A fun time had by all at reunion
15 September 2015 Swimmers and polo players with fond memories spanning at least five decades of time spent at Port, Leander and Devonport met for a reunion that took place on Saturday 12 September.Club rivalries were put aside as stories and photos were shared, while some of the polo boys even got to see a video of themselves in action in their prime. A sample of the memories shared by the swimmers: "The Barton Hall swimming camps, in particular the very cold swimming conditions at Wall Park Pontins camp in April and the breaking of ice." "The swimming camp at Weston-Super-Mare Pontins camp where we went when the use of Barton Hall ended.""We always smelt of chlorine and the mere smell of it now brings back the memories.""Constantly having wet hair and sitting in school with plastic bags over my plaits."It was a really good night of catching up and memories and the date for the next reunion has already been set - Saturday 10 September 2016. P.S. There was great interest in the polo video that surfaced, prompting requests for links to any more videos that we have to appear on our website. Click here to view a video of Devonport swimming action from 1988/9, the second half of the video is dedicated to the 1988 Breakwater Swim, a must view for anyone involved in local swimming at that time. And click here to view highlights of the 1989 Devon County U18 Water Polo Cup Final between Port of Plymouth (featuring Richard Harding of our men's water polo team) and Devonport.
2015 DRSA Club Championships
2015 DRSA Club Championships Added 15 September 2015 Message from Paul Russel, General Secretary:In October our very important galas varying from 25m events for the Under 8s to the 1500m event will take place in 6 evenings starting Monday the 5 October and finishing Friday the 23 October. All the detail is in the attachment. Very important details are - Consult with your coach/es and perhaps they will have time to time you for entry times if you don't have any PBs as yet. It will not be an official PB but will at least give the event organiser an indication. This also applies to members who have PBs but with other clubs or in the distant past. The form has to be returned by Friday the 25 September. Click here for the entry form.
2015 City of Plymouth Championships
2015 City of Plymouth Championships Added 15 September 2015 Message from Paul Russel, General Secretary:This is a long document so I have given a few pointers to help any of you interested in competition in the City of Plymouth Championships which start on the 18 October at the Life Centre. A) Age is at 25th October as per point 25 in the document B) This gala is aimed at those who do NOT have national/regional times i.e. early in their swimming career but we do not want to demoralise those who are just starting either. So if they are not faster than the QT on page 8 how do you decide if your son or daughter should compete? ASK the Head Coach please not me! C) to enter fill in the form (page 9) and please add £5 for the coaches pass. Then pass to Karen Crews or to Iain Chalmers who will then pass it on WITH the correct money including the coach pass fee to Karen BEFORE Friday 25 September so that all the entries can be processed in time. Yes I know it is paper and we need to send electronically but heh ho. D) The relay entries is down to Iain to select but please indicate if you are interested Click here for the meet pack.
Results of the Breakwater Race
7 September 2015 Well done DRSA members Antony Antcliff, Denise Ward and Harriet Tuck for completing the Breakwater race with no wetsuit (even if a bit mad!). Results of the 2015 Plymouth Breakwater Race held on 18 July: Men: 1st Kieran Rookes, Tavistock, 42.29 2nd Robert Yardley, Dinnaton, 48.28 3rd Scott Lamont, RNRM 57.36 4th Anthony Antliff, DRSA, 1.04.19 Steven Clark (guest), Oddicombe, 43.28 Ladies 1st Harriet Tuck, Devonport, 46.09 2nd Caitlin O'Malley, RNRM, 47.07 3rd Denise Ward, Devonport, 49.15
Help André Swim the English Channel
16 February 2015
Later this year DRSA member André Roberts will be attempting to swim the English Channel. In order to help fund his costs, André is "crowdfunding". Click here to read more about André's story and to help him raise the funds he needs. Good Luck André! Update 4 September We have received a final message from André before his swim: "Hopefully I'll be starting at 4.20 am tomorrow morning, just waiting for the pilot to confirm tonight, but things are looking pretty good! André is swimming for Rowcroft Hospice, click here for the just giving page. Click here If you would like to track André's swim.
Ladies defend Dartmouth Title
4 September 2015
Head Coach Announcement
17 August 2015 By Paul Russel, General Secretary Great news, despite the sudden loss of Hannah, we have appointed a Head Coach to replace her. Some of you will know Iain Chalmers as he both swam and taught for DRSA, but many will have no idea who he is so I below are a few details. Iain's competitive swimming Trained within a number of programmes, UEA City of Norwich, North Norfolk Vikings, Plymouth Leander, Devonport Royal, Woden Sharks (Australia), Exeter City & Tavistock SC. Two British Masters Titles, medallist at regional Level, Regional Sprint championship title, multiple times Devon Country Champion, City Championships and Record holder. BUCS Team Championship Division 3 Champion, BUCS Short Course Semi Finallist and Marjon Sportsman of the year Award 2013 Swimming - Coaching. Iain's coaching experience Voluntary Coach with Devonport Royal for two years 2010-2012 and Marjon, Marjon Coach of the Year award 2012. Colours, half Blue and Blue honours awards with Marjon for coaching and commitment to sport. Swimcats Development squad head coach, coaching experience in Australia.
Good Luck Hannah
1 August 2015 Friday 31 July was a sad day for DRSA as we said "Good bye and good luck!" to our Head Coach Hannah Ball. After six years of swimming with with us and two years as our Head Coach, Hannah thanked "all those amazing people who supported me and gave me many memories to remember in years to come!! Love you all and see you all again soon. Good luck." We in turn wish Hannah good luck and all the best and in her coaching career.
English Channel Attempt
| | |
| --- | --- |
| | Fingers crossed for Sarah Our Masters swimmer Sarah Poplar, who will be attempting to swim the English Channel in memory of her father. Donations can be made via Justgiving.com/sarahpoplar |
19 July 2015 Next week our Masters swimmer Sarah Poplar will be attempting to swim the English Channel. Here Sarah gives an insight into her preparation: Seven years ago I took an interest in outdoor swimming, taking part in a wetsuit swim of 3km off the Somerset coast. A year later I took off the wetsuit, and now I am attempting to swim the English Channel. The English Channel is 21 miles 'as the crow flies', but inevitably the course is longer due to tidal influences and generally takes an 'S' course across to France. There is a 'tidal window' of 7 days to pick a safe day to cross, determined by the boat pilot. Winter training is done in the pool, banking the hours of interval training. In April, when the temperature got to around 9 degrees celcius, the acclimatisation started, 15-20 minutes at first and then gradually doing more and more as it started to warm up. Over the spring and summer, training swims built in duration and distance, hour on hour until about 4 weeks ago I did a 'split channel', covering the channel distance over two consecutive days, taking around 13 hours. The training and time needed is quite intense and tiring, one of the enjoyable bits is trying to maintain a good calorie intake, losing weight and therefore insulation is not good!Finally, with my swim only a week away, I have tapered training distances, doing just enough to keep everything loose. The nerves are building and the excitement along with it. Fingers crossed! I am swimming in memory of my father who died last year of bowel cancer and for those who would like to donate you can find me on Justgiving.com/sarahpoplar
UpdateCongratulations to Sarah on becoming the latest member of Devonport Royal to swim the English Channel. Sarah swam the Channel on the 30 July in 14 hours. Click here to read The Herald's extensive report on Sarah's fantastic achievement.
Healthy Showing at Devon Development Galas
| | |
| --- | --- |
| | Medals of all coloursJames, Jasmin and Scott show off their medals |
25 June 2015 Our competition season continued with a healthy showing at the Devon Development Galas held at the Life Centre on the 6, 7 and 13 June. 13 of our young swimmers made an impressive contribution to an enjoyable meet, coming away with 10 medals of all colours and a host of PBs. The most eye-catching performances were probably those of Scott George, who was delighted with his full set of Gold (200 Backstroke), Silver (200 Freestyle) and Bronze (400 Freestyle). However, Scott's story at this meet was also one of what-ifs, with disqualifications costing him 2 Golds and 1 Silver. Scott's great friend and rival James Coleman produced probably the most astonishing performances of the DRSA swimmers. With just a couple of training sessions under his belt following a 3-month rest due to injury, James turned up just for the experience and with no expectations. James amazingly won Gold in the 200 Breaststroke on the first weekend, before taking part in the 400 Freestyle one week later. With Scott in Lane 0 and James in Lane 1, the pair were inseparable for the whole 16 lengths, with James pipping the in-form Scott by one hundredth of a second to claim Silver. Jasmin Coleman was not to be outdone by her brother and claimed Gold in both the 100 and 200 Breaststroke and a Silver in the 100 Freestyle, while Isobel Abernethy rounded off the medal count with a fine Bronze in the 100 Backstroke and a medal for 5th place in the Skins event. There were also many PBs for our other athletes; as well as the above swimmers, PBs were achieved by Tia Crews, Georgia English, Toby Marks, Mia Steele and Phoebe Stentiford. Special mention on the PB front has to go to Lois Philips, though, who achieved PBs in all 7 of the events she entered, a fine consolation for just missing out on 2 medals with 4th place in the 200 Breaststroke and 100 Backstroke. Aiden Symons-Brown, meanwhile, achieved a fine 4th place in the 200 Breaststroke as well as 2 PBs. Hannah was very pleased with the team's performance. She had special praise for Isobel Abernethy, who became the first DRSA swimmer to qualify for the Skins event since she became Head Coach in 2013. Hannah was delighted with the "cracking PB" Izzy achieved in the event. Hannah was also delighted for Georgia England, who was taking part in her first Level 2 meet: "Georgia swam fantastic, pulled out strong swims for her age group and achieved times that she can build on for the future."
Impressive Haul from Long Journey
| | |
| --- | --- |
| | Successful relay teamFrom left: Terence Li, Shun Wan, Kwun Wong and Isaac Lam |
24 June 2015 Devonport Royal Swimming Association's Masters team continued their excellent season at the recent British Long Course Championship held in Manchester. Devonport made the long journey with a small squad of just 5 swimmers but managed an impressive haul of 6 medals, including two Gold medals. Devonport's squad included regular swimmers David Smith, 60 and Terence Li, 22 (also a University of Plymouth swimmer), who were joined by University of Buckingham student Issac Lom, 21 and Kwum Wong, 19 and Shun Wan, 20, both visiting from Hong Kong looking to gain some racing experience. The relay team featuring Li, Lom, Wong and Wan won a gold in the Men's 72+ age group, 400 meter freestyle relay in a time of 4:13.51 and in the 800 meter freestyle relay in a time of 10:04.37. The relay team followed these Gold medals up with a Bronze medal in the Men's 72+ age group, 200m medal relay which saw Terence Li set a new Personal Best time for his 50m Backstroke in a time of 32.81. The team finish with a time of 2:04.71 an impressive 4 seconds ahead of the fourth placed team. Individual glory came from David Smith in Men's 60-64 age group in the 50m Breaststroke and Backstroke. Smith appeared to be the master of the tight, winning the Silver medal in the 50m Backstroke in a time of 35.68, 0.01 of a second before the third placed swimmer Eddie Riach from Milngavie and Bearsden. Smith also finished second in his favoured event, 50m Breaststroke in a time of 36.52 again, beating the third placed swimmer, Graham Pearson from Carlisle Aquatics, in 0.01 of a second.
Success at South West Championships
9 June 2015 Andrew Keeler recently competed at the South West Championships at the Life Centre where he achieved great success in his first 50 metre competition. Andrew, who has a Paralympic S14 Classification, received a Gold medal for 100 metre Freestyle, Silver for 50 metre Freestyle, Silver for 100 metre Butterfly and Bronze for 200 metre Freestyle. Andrew competed over 2 days and was delighted with his results. He achieved a personal best time in the 50 metre freestyle and said he really enjoyed racing in the 50 metre pool. He has now stepped up his training and his next competition is the 50 metre Sprints to be held in Gloucester on Sunday 5 July. We wish him luck and look forward to hearing how he gets on there.
Beth off to Azerbaijan
| | |
| --- | --- |
| | Baku boundBethany will be representing GBin the European Championships. |
31 March 2015 Beth Ward, our GB U17 Ladies Water Polo player, is to travel to Baku, Azerbaijan, in June with the rest of the team to take part in the European Games. The GB team qualified for the games in Nice recently, coming second in a qualifying group consisting of France, Switzerland, Portugal and Czechoslovakia, losing only to the French. The Water Polo tournament for the European Games runs from the 12-20 June in Baku and will feature the top twelve female and male teams in Europe. It was a busy build-up to the qualifying tournament for Beth, since the February half term she has represented the South West region in the ASA Inter-regional championships in Walsall, where she was voted the team's most valuable player, she then went to Germany with the GB squad for a training camp, followed, a week later, by a four-nation tournament in Slovakia.
Brian Ferrand 1943-2015
30 May 2015 It is with great sadness that we announce the sudden passing of Brian Ferrand after a short illness. Brian was known to many of us as a coach to our younger swimmers, and was until very recently still coaching every Monday evening at the Life Centre. Brian joined DRSA in 1951 and remained a member of the club for the next 64 years. In his youth Brian represented DRSA as both a swimmer and water polo player, and in 1967, when he returned to the Plymouth area with the Royal Navy, he took up swim teaching. Over the years Brian taught hundreds of children, among them a 7 year old Sharron Davies. He taught with the club whenever his duties took him to Plymouth and continuously since 1995. Brian was a very proud member of DRSA. He was very keen to share his knowledge of the club's history, and last year he penned his reminiscences of DRSA (click here to read Brian's reminiscences) and what he described as some of the club's legends. It is no exaggeration to state that, after 64 years of unbroken membership and service to DRSA, Brian himself deserves to be remembered as a club legend.
Masters continue to shine
| | |
| --- | --- |
| | "Most enjoyable team"From left to right: David Smith, Lewis Young, John Wright (coach), Hannah Ball, Paul Russell, Michelle Chopra, André Roberts, Jason Quiterio, Tyran Botha, David Manning, Robert Will, Susan Smith |
14 May 2015 Devonport Royal Masters continue with their impressive form this season at the Royal Navy Masters competition, held at Millfield pool. The Masters' team travelled with a team of 11 swimmers, considerably smaller than the winning team from Basingstoke Bluefins, but managed to pull together and finish with a total of 226 points finishing third in the team competition of 55 teams from around the country. Stand out performances come from Paul Russell, 63 and Lewis Young, 21, who both won their respective age group competitions. Individual performances were also of a high standard; with a total of 43 medals including 13 Gold medals. André Roberts, 21, who is currently training to swim the British Channel in September, started Devonport's collection off with a Gold in the Men's 18-24 400m Freestyle in a time of 5:06.03. Jason Quiterio, 30, won the second Gold in the Men's 30-34 100m Butterfly with a Personal Best time of 1:04.15. After the race, Quiterio said, "the 100m fly is not a fun race to start an event, especially swimming if it's before 10.30am, but I am pleased with the time and it is nice to get a PB!" Paul Russell then picked up his first Gold medal of the competition in the same event in a time of 1:37.31. Robert Will, 39, retained his Men's 35-39 50m Breaststroke crown in a time of 31.97, which moves him within 0.2 of a second to the National number 1 ranking position for the event. David Smith, 60, not to be outdone by his teammate, also won a Gold in the Men's 60-64 in the same event, in a time of 35.27, a PB on the time set in Gloucester 2 weeks earlier. The Men's 50m Freestyle proved to produce some fast times from all swimmers with Robert Will winning a Gold in the Men's 35-39 in a time of 26.75. The event also saw Tyran Botha and Quiterio race head to head for the first time since the Saltash event in January. Both swimmers broke the 26 second mark, with Quiterio setting a new PB in a time of 25.94 and Botha beating his teammate on the touch in a time of 25.77 to win the Bronze medal. Will, Quiterio and Botha were joined by David Manning, 62, in the Men's 160-199 200m Medley Relay to win Gold in a time of 2:04.43, beating the team of the Royal Navy by 0.15 of a second. Roberts was then joined by Lewis Young, 21, Hannah Ball, 22 and Michelle Chopra, 35, for the Mixed 72-99 200m Medley Relay, where they finished in an impressive second place to win the Silver medal. Young picked up Devonport's next Gold medal in the Men's 18-24 200m Freestyle in an impressive time of 2:08.19 and Botha also collected a Gold in the same event in the Men's 30-34 in a time of 2:13.47. David Manning and Paul Russell then went head to head in the Men's 60-64 100m IM. Manning took the Gold in a time of 1:20.00, moving him up to fourth in the national rankings. The pair then raced off again, joined by teammate David Smith, in the Men's 60-64 50m Butterfly, with Devonport winning a 1, 2, 3 for the event. Gold medal going to David Smith in a time of 31.47, moving him to number 1 in Britain for his second event. Manning then added to his medal collection with a Gold in the Men's 60-64 100m Freestyle in a time of 1:09.51. Devonport Royal's final Gold medal of the competition come in the Men's 160-199 Freestyle Relay in a winning time of 1:48.95. The team of Quiterio, Botha, Will and Manning beat the Royal Navy team by a narrow 0.24 seconds. Masters' Coach, John Wright said after the event, "that was an amazing team performance. This is the most enjoyable team I have ever coached and to see the performances improve like this is great. We have swimmers now ranked in the top 5 in Britain and Masters swimming their fastest times ever." Special mention should also go to Susan Smith, 61, who only started to swim when she was 40. Smith set a new PB in the Women's 60-64 50m Freestyle in a time of 43.68 to win her first ever Silver medal and move into the top 8 in Britain.
Double Winners
11 May 2015
| | | |
| --- | --- | --- |
| | Devonport Ladies Water Polo TeamWinners of the Devon County League 2014/15 and the Devon County KO Cup 2014. | |
Masters shine at Gloucester Masters Meet
| | |
| --- | --- |
| | Impressive medal haulFrom left to right: Danny, Michelle, Susan, David and Jason. |
28 April 2015 Danny McSweeney continued with the high standard set at the Caradon Meet with an impressive medal haul of three golds and two silvers at the Gloucester Masters Meet, with our team picking up 12 medals in total. Competing in the male 2529 age group category, Danny won his Gold medals in the 100m Breaststroke, 50m Breaststroke and 100m Individual Medley, with a lifetime best time set at 1.03.75. Danny's 100m IM time currently ranks him in third position in Britain for his Masters age group. Danny also picked up a Silver medal in the 50m Freestyle and Butterfly events. Jason Quiterio, swimming in the male 3034 age group, also picked up an impressive collection from the gala, winning a Gold in the 100m Butterfly, in a Personal Best time of 1.04.28. This time, like his Devonport teammate, now ranks him inside the top 10 in Britain for his Masters age group. Quiterio also picked up a Silver and a Bronze in the 50m Freestyle. In her solo event of the gala, Michelle Chopra, swimming in the female 3034 age group, finished in an impressive second place for the 200m Freestyle. Completing the Devonport Royal Masters' team were husband and wife team, David and Susan Smith, both swimming in the 6064 age group. David picked up a Gold in the male 50m Breaststroke with an impressive swim in a time of 35.80. This time now ranks David as number 1 in Britain within his Masters age group. David followed this remarkable swim with another strong performance in the 50m Butterfly, finishing in the Bronze medal position. Completing the impressive medal collection by the team was Susan Smith, who picked up a Bronze medal in the female 50m Breaststroke event.After the event Jason Quiterio said: "This was a really enjoyable event, possibly the best I have done since joining the Masters team. We have come away with a small team this time but have continued to compete at a high standard. We are all looking forward to the rest of the season and seeing what we can achieve with more hard work."The team will next compete at the Royal Navy Masters at Millfield pool on 3rd May.
2015 Schools Gala - A Fantastic Celebration
5 March 2015 By Robert Coleman

Our 2015 Schools Gala was another fantastic celebration of swimming, with the enthusiasm of both parents and children creating another great atmosphere at what is an undoubted highlight in our calendar.

The first schools up were the primary schools (Boringdon, Compton, Goosewell, Kings School, St. Georges, Stoke Damerel, Stowford, Woodford and Yealmstone Farm), with the events swum in two heats and a final. In the primary girls' event Stowford 1 were clear winners, with Stowford 2 just pipping Compton for Silver. The primary boys' event was also keenly contested, with Boringdon winning gold ahead of Compton and Stowford.

Next up were the senior schools, and this year there was a new category for 11-13 year olds, and new silverware. The new shield for the boys' event was donated by the Old Suttonian Association, while the trophy for the girls' event was donated by the Plymouth Ski Centre. The schools that competed were Devonport High School for Girls, Hele, Ivybridge and Stoke Damerel. The first winners of the Sutton High Memorial Shield for the boys race were Ivybridge 1, with Hele and Ivybridge claiming silver and bronze respectively. The winners of the girls race, and therefore the first winners of the Plymouth Ski Centre Trophy, were Ivybridge 2, who were followed home by Devonport High and Ivybridge 1. The final two events were the senior events with Devonport High, Ivybridge and Plymouth College competing in the girls' race and Ivybridge and Plymouth College in the boys' race. Both races were swum as straight finals. The girls' event was another close race with Plymouth College 2 edging out Plymouth College 1 and Devonport High. In the senior boys' event, probably the closest race of the day, Plymouth College 2 finished just ahead of Plymouth College 1 and Ivybridge.

A huge Thank You goes to all of the swimmers, parents and volunteers who made this another excellent evening of entertainment.

All of the races were filmed, click here if you wish to relive the excitement of the evening.


Primary Girls: From left to right, Compton (Bronze), Stowford 1 (Gold) and Stowford 2 (Silver).
| | | |
| --- | --- | --- |
| | | |
| Primary Boys Bronze: Stowford | Primary Boys Gold: Boringdon | Primary Boys Silver: Compton |
Intermediate Girls: From left to right, Ivybridge 1 (Bronze), Ivybridge 2 (Gold) and Devonport High (Silver).The new trophy was donated by the Plymouth Ski Centre.
| | | |
| --- | --- | --- |
| | | |
| Senior Girls, left to right: Plymouth College 1 (Gold), Plymouth College 2 (Silver). Devonport High finished third. | Thank you to the Old Suttonian Association | Thank you to the Plymouth Ski Centre. |
| | |
| --- | --- |
| | |
| Senior Boys, left to right: Ivybridge (Bronze), Plymouth College 2 (Gold) and Plymouth College 1 (Silver). | Intermediate Boys, left to right: Ivybridge 2 (Bronze), Ivybridge 1 (Gold) and Hele (Silver). The new shield was presented by Robert Coleman (in red) and Terry Mansell, both former pupils of Sutton High School. The shield was donated by the Old Suttonian Association. |
Masters Impress at Caradon Meet
| | |
| --- | --- |
| | Impressive start to 2015Top Male, Top Female and Top Club Award Winners |
13 February 2015 Devonport Royal Masters swim team have made an impressive start to the 2015 swimming calendar by taking the Top Male, Top Female and Top Club award at the Caradon Masters and Senior meet held in Saltash last weekend. Devonport won the Top Club award by an impressive 258 points ahead of second placed Caradon who scored 130. Devonport saw their largest Masters team race, with a total of 15 swimmers aged 18 to 68. In total Devonport took a total of 42 gold medals, including the Men's 120-159 Combined Age Group Freestyle and Medal Relay, Mixed 72-99 Combined Age Group Freestyle and Medal Relay and Mixed 160-199 Combined Age Group Freestyle and Medal Relay. Top Female, Rebekah James, 20, won an impressive 9 gold medals including the 200m Butterfly that she completed immediately following her victory in the 100m Breaststroke. The Top Male award was awarded to David Manning, 62, who was competing in his first competitive competition as a Devonport Royal swimmer. David won a total of 8 gold medals, including the 50m Freestyle where he just edged out teammate Paul Russell, 63 to take the gold in the Men's 60-64 category in a time of 32.72. The 50m Men's Freestyle races also featured a close battle between teammates, Tyran Botha, 33, Terence Li, 22 and Jason Quiterio, 30, with Tyran taking the gold in the 30-34 category in a time of 26.63 and Terence Li taking gold in the 18-24 category in a time of 26.75. Joining the impressive medal collection was Michelle Chopra, 35, who took a total of 4 gold medals. The competition also marked the return to swimming for former Plymouth Leander and Combined Services swimmer, Danny McSweeney, 29, who finished 4th in the Top Male competition and bagged an impressive total of 6 gold medals, including a gold in the Men's 25-29 category for the 50m Breaststroke that saw him narrowly beat teammate and the Devon County 100m Breaststroke silver medalist Rob Will. Speaking after his first race, Danny said, "it was a really well run event, with a great atmosphere, especially between the Devonport team." The Devonport Masters team, sponsored by Bowden Physio, have gradually grown in size and strength over the past year under the experienced guidance of John Wright. John feels that "it is through the hard work in training that the team confidence to compete has grown." The Masters squad, who train three times a week at the Life Center, are now focusing on their next competition in April at Gloucester where they will be hoping to improve on some impressive results and times from this weekend. Photo from left to right: David Smith, Jason Quiterio, Paul Russell, Michelle Chorpa, Rachel Ward, Rebekah James, André Roberts, Terence Li, Darren Green, Rob Will, John Wright (coach), Tyran Botha, David Manning, Danny McSweeney, Andrew Keller and Denise Ward.
Ladies Devon County KO Cup Winners
22 December 2014 Our Ladies Water Polo team continue their progress, the latest achievement was winning the Devon County KO Cup.It was an emphatic win for the team, crushing Exeter Ladies by 19 -7. Our Ladies played well from the start and were soon ahead, and their relentness pressure on the opposition meant that the goals kept coming.It was a good overall team performance by the Ladies.
Bronze Medal for Toby
9 December 2014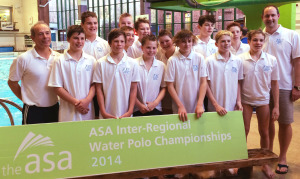 Toby Marks (third from left), a member of our U15 Water Polo Squad, pictured with the South West Regional team that played in the Inter District Tournament at Walsall. The team were Bronze Medal winners at the event.
Arena League Round 2
10 November 2014
Successful Defence of Mini Water Polo Title
22 October 2014The Paignton Festival of Mini Water Polo has become a firm fixture in the local water polo calendar and is one that our mini polo players and coaches look forward to months in advance. We again entered three teams, the Destroyers, Dolphins and Dragons, while hosts Paignton and Newton Abbot entered three and two teams respectively. This is the third time in the last four years that Devonport has won this tournament, with Devonport's Destroyers being pushed this year all the way by Newton Abbot, eventually winning the tournament with a very impressive goal difference. There were some outstanding team performances on the day, and Devonport's coaching team on the day, Rob and Liam (Destroyers), Tom (Dragons) and Connie and Zoe (Dolphins) were very proud of their teams. The Dolphins deserve a special mention as this is the first time that our youngest team has won a match at this tournament, scoring with just seconds to spare to record a 2-1 win against Paignton's youngest team. Dolphins coach Zoe: "This is the first time many of the players have played in a tournament like this and they did very well, especially against the more experienced teams. They were led by their captain Eva who scored numerous goals throughout the day. Ben and Tom stepped up as the team's goalkeepers and both made some brilliant saves. Sophie, Evie, Willow and Charlie were also key players as they all were finding space and creating great goal-scoring opportunities. The team worked very well together and everyone played their part. They should all be very proud of their performance. We hope to return next year as a stronger team and will be a force to be reckoned with." Destroyers coach Rob: "Although we won the tournament on goal difference scoring a hatful of goals, the highlight for me was the quality of mini polo we played. In the opening match, against the eventual runners-up Newton Abbot, we adopted a diamond formation with Rhys in goal, Jessica as central defender/playmaker, captain Jasmin on the left wing, James on the right and Asa as centre forward. We played some eye-catching mini polo, racing into a 3-1 lead with goals from James, Jasmin and Jessica. However, as well as being talented, Newton Abbot are also stubborn opposition and denied us victory with two fantastic shots from distance that our onlooking senior water polo players would have struggled to save. Despite losing a two-goal advantage, I was delighted with our performance. I do not believe that I will ever see a better game of mini polo. I was also delighted with the performances of Lily, Abbie and Craig, who were asked to be patient in the first match and to watch and learn the team's formation. When they were called upon they did not disappoint, keeping the same diamond formation and contributing fully to the tournament victory." The Dragons can be pleased that they were one of only two teams to score against the Destroyers, with Adam (a better finish you will not see) and Max both finding the back of the Destroyers' net in a keenly contested match against their older and more powerful opponents. The MVP awards went to Jessica Garrad (Destroyers), Adam Greep (Dragons) and Phoebe Stentiford (Dolphins).
Medals at Millfield Long Course Masters Meet
13 October 2014
Our swimmers at the recent Millfield Long Course Masters Meet came up trumps, with Jason Quiterio and TeRence Li securing gold and silver medals in their respective age groups, although it could have been even better as Devon masters champion Michelle Chorpa had to pull out of the competition through illness. "It was great to swim at Millfield again - I haven't been back there to swim for over 12 years," said Quiterio, who finished first in his age group (25-29 years) gaining two gold medals, while Li secured two silvers (18-24 years). "I've taken half a second off my 50m freestyle personal best since June which is pleasing. My focus will now be geared towards the British long course Masters next year. And I'm pleased to announce that we will have two of our masters swimmers competing at the nationals in a couple of weeks' time. They are Rob Will and Hannah Ball and we wish them both the best of luck."
Open Meet Invitations
From time to time our swimmers are invited to enter open meets arranged by other clubs. Invitations that we have received are listed below:
Wycombe District Swimming Club Open Meet Programme for 2016/2017 Added 8 July 2015 Click here to view the programme.
RN Masters Meet 2016 Added 7 July 2015 An extra early heads up for all of our Masters. The date for the RN Masters Meet 2016 has already been set and the Millfield pool is booked for Sunday 24 April 2016. Click here for the entry pack.
Facebook

Follow us on Facebook.

Club Kit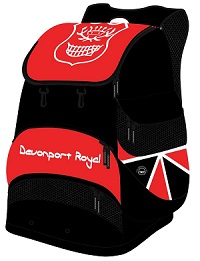 Visit our Shop to view our club kit. The club bag can be yours for £39.00.

Swim Team
Our Swim Team competes in the National Arena and Cornwall & West Devon Leagues

Masters Swim Team
Our Masters section caters for inexperienced swimmers as well as national contenders

Our Children In Need Fundraisers
We swim for fitness, for fun and occasionally for others

Athletes competing at a high level
Some of our athletes who took part in the Devon County Championships

Ladies Water Polo Team
Devon League & Cup Winners

Men's Water Polo Team
Winners of the Lamb Trophy

Mini Water Polo Team
Winners of the Paignton Festival of Mini Water Polo

Under 15 Water Polo Team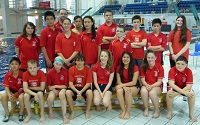 Competing in the Devon League