| | | |
| --- | --- | --- |
| | News | |
Celebration Evening
| | | |
| --- | --- | --- |
| | | Celebration Evening, 25th January 2020 The Green Taverners Plymouth Argyle. We are pleased to announce that tickets are now available for you to purchase for the Celebration evening, these will be available until 31st December 2019. We will be having a hot buffet this year with Italian, Mexican and Vegetarian options. Due to the size of the room at the Taverners we are limited to 240 people so tickets will be served on a first come first served basis. Please purchasing your tickets via the portal and then email food.drsa@yahoo.com, the names of everyone you have purchased a ticket for as well as their menu choices. Tickets can only be purchased via the portal and there will be no tickets sold on the night. If you have any problems with the portal please email social.drsa@yahoo.com and Lisa will organise to meet with you to help you. We look forward to seeing you on the night. DRSA Committee |
Devon Championships - second weekend
Day 2 of Devon Championships
Dead heat for Stan and Lacey in Devon 800m
Australian Bushfire Fundraiser
Harry selected to represent Swim England
Arena League Round 3 Winners
Four Devonport boys in South West team
Winter Nationals Day 3
Winter Nationals Day 2
Winter Nationals Day 1
South West debut for Neve
The Dasher
Double Double for Water Polo Teams
Tanzania Fund Raiser
Awards for Abi and Charlie
Bronze Youth Achievement Award for Tia
| | | |
| --- | --- | --- |
| | | Update: Congratulations to Tia, winner of the Bronze medal in the category Swim England Youth Achievement Award at the Swim England National Awards 2019 in Birmingham. |
Plymouth Network Time Trials
Funkita and Funky Trunks donate prizes
Rob, Charlie and Fin represent Devon Masters
Arena League Round 2
U13s Devon Champions
Silver for U15 Boys at NAGS
South West Regional Winter Championships
Payback time
Chris and Rob fly the flag
CoP Championships Day 3
Jasmine at World Iron Man Championships
Arena League Round 1
Aiden helps Devon to national title
CoP Championships Day 2
CoP Championships Day 1
Sponsored Swimathon
Excellent few days for water polo
Juniors impress
Abi in the press
Tony to cycle from Lands End to Bristol
Junior League Round 3 winners
Ladies making waves
Cool day for Tia and Lacey
U15s retain BWWPL title
First and second in Breakwater Race
National Silver for Chris
England call-up for Charlie
Abi selected for Development Programme
Devon call-up for Aiden
Tia to receive SW Youth Achievement Award
Charlie at National Academy in Hungary
DRSA Adrenaline Quarry 2019
2018/2019 Season complete!!
Gold for Abi
Xander and Tia at English Nationals
Andrew improves in final
Second Silver for Aiden
Silver for Aiden at British Championships
Cheltenham Festival of Water Polo
Jasmine qualifes for World Championships
Oakmount Control Systems Sponsorship
Summer Sizzler
| | | |
| --- | --- | --- |
| | | The 2019 Summer Sizzle, our first level 3 licensed gala has come to a close, and what a fantastic weekend we had. So far, we have had nothing but positive feedback from our guest clubs, and its awesome to hear that so many swimmers, coaches, parents and officials had a fantastic weekend. Please do send over feedback, it is greatly appreciated. Of course, it goes without saying - huge thank you for your attendance, your assistance and support. Please consider coming to join us again next year! In the DRSA corner, what an effort, huge congrats to Caroline and her army of volunteers, who pulled the weekend off without a hitch, whether you were selling raffle tickets, officiating, team staff, handing out medals or running around doing whatever needed to be done - massively grateful for your help. There are far far too many of you to mention, to a blanket thank you and well done across the board Team DRSA. Big shout out to David Nicholls for his announcing, alongside his apprentice, Mark Jones, and Rob DJ for bringing a bit of Disco to the Sizzler, it was an awesome addition! Massive well done to Karen Crews, from writing the meer pack, to taking entries, checking, double checking, liasing with visiting clubs, running the gala, and running the results Karen did a huge job and big congrats to her. |
Would also like to thank some outside personnel, Adrian Dinham, who runs the timing screen and electronic timing, he was invaluable and huge thanks to him. Secondly Lee Cobb, from the Plymouth Life Centre who has gone the extra mile for us all weekend, where nothing was too much to ask for. Big thank you to Lee and his team. The coaching and team management team. We had a big DRSA contingent this weekend, and I hope they will all agree that you guys had a huge impact on their performances. Big thank you to you all! I'd also like to mention Finley Bowden and Luke Crofts, the two lads had a fantastic weekend, Luke travelling from Kent to compete in the Sizzler, and finishing as joint top male swimmer as well! But both lads gave away the majority of their medals to their younger team mates. It was an awesome gesture and they should be applauded. Well done lads! Finally, the swimmers - you guys were fantastic once again. Some of you may not have met your expectations, but that is sport - keep at it, keep working and it will come good. Those of you who have, enjoy it and appreciate that the good times walk hand in hand with the bad times. Its a journey! We have no finished racing for the 2018/2019 season on the whole, and now attentions turn to the British and English Summer Championships, where Aiden, Tia, Xander, Abi and Andrew will pull the curtain down on a fantastic season of swimming. Well done one and all, enjoy the last few chilled weeks of training and lets get ready to turn up even more trees in 2019/2020!
Andrew, Abi and Xander prepare for Nationals
First taste of competitive polo
Top spot for Lacey at Fast 5
Medals at Devon Masters
English Schools selection for Jas and Jess
Manchester Festival of Water Polo
Qualifying times met
Devon Developments
National qualification for Tia
Fine performance in Junior League
Regional talent camp selection for Lacey
British and English qualifier
Congratulations Alex and Toby
England call-up for Ella-Louise
Devon County Club of the Year
Regionals Days 5 and 6
Regionals Day 4
Regionals Day 3
Regionals Day 2
Regionals Day 1
Well done Harry!
Norwich Swim Meet
| | | |
| --- | --- | --- |
| | | Incredibly proud of this group of swimmers this weekend. Travelled a long way, and into a different environment against different clubs and swimmers and have been exceptional. We have had highs, we have had lows, fantastic results and difficult ones. From 11 year old Lacey, to 20 year old Nathan and Fin, they have shown each other fantastic support and encouragement. With just 9 swimmers we finished top 10 out of 26 clubs. We were frequently the loudest - (and probably the most annoying). Medals from Aiden, Lacey, Tia, Luke, Fin and Nathan. Finals from Aiden, Luke, Ben, Nathan, Finley, Tia and Emma. Pbs, from everyone. And an awesome highlight in Emma racing in a brilliant Swim off with everyone urging her on as she destroyed her PB and heat time. A big well done to all of them, and a big thank you to John, Karen and Sara for their support all weekend on poolside, and to City of Norwich for hosting such a great event. We hope to be back! |
Two Counties Swim Meet
Awesome work Debbie
| | | |
| --- | --- | --- |
| | | Last night, masters swimmer Debbie Carr, who struggled to swim a length when she first joined us 2 years ago completed a long held target of 3000m in an 1.5 hour session. Awesome work Debbie and congratulations - and well done to Tony, John W and Nigel for their coaching |
Over &pound4,600 raised for the Primrose Foundation
Cool News for Izzy and Charlie
| | | |
| --- | --- | --- |
| | | Some cool news we have been sitting on for a few days. Izzy Philipson and Charlie Lawrence have been selected to attend the 2019 Devon Talent Camps, following their performances in the 2019 Devon championships. Both had fantastic debuts at this level, Charlie winning a silver in the 100 IM and qualifying for a number of finals. Izzy won a number of medals, the highlight of which was a gold medal in the 100m freestyle. Both will attend three camps in 2019, developing their skills and understanding of the sport with a view to step up to higher levels in the next couple of years. Congratulations to both! |
Strong performance in Devon Interclub
Devon County Championships Day 4
| | | |
| --- | --- | --- |
| | | What a fantastic day, as we got a rare and welcome gala appearance from Terry, the kids put on a show and everyone leaves the pool with something to shout about! Click on the image for full breakdown. |
Silver for Angus and Charlie
Gold for Jasmin and Jessica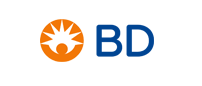 DRSA is proudly sponsored by Becton Dickinson

Cookies policy

This website uses cookies. Click here to view our cookies policy

Facebook

Follow us on Facebook.

Twitter - General News

Club Kit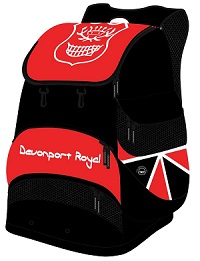 Visit our Shop to view our club kit.

Swim Team
Our Swim Team competes in the National Arena and Cornwall & West Devon Leagues as well as national competitions

Teams at National Championships
Our team that competed in the Swim England 2018 Winter Meet

Teams at National Championships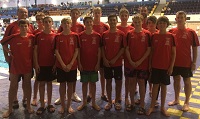 Our team that competed in the 2018 Water Polo National Age Group Championships

Masters Swim Team
Our Masters section caters for inexperienced swimmers as well as national contenders

Our Primrose Fundraisers
We swim for fitness, for fun and occasionally for others

U17 Water Polo Team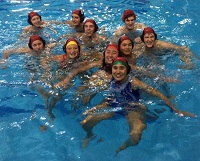 Bristol and West League Winners 2018, Devon League Winners 2018

U15 Water Polo Team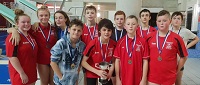 Bristol and West Tournament Winners 2018, Devon League and Cup Winners 2018

Under 13 Water Polo Team
Bristol and West Tournament Winners 2018