&nbspAbout Devonport Water Polo
&nbsp&nbsp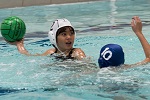 &nbsp&nbsp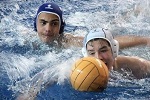 Water Polo is an incredibly physical sport and is regarded as one of the most demanding of all team games. It is a fast-paced sport played by two teams in a swimming pool. There are goals at each end of the pool and, similar to other sports such as football, the winner of the game is the team that scores the most goals by getting the ball between the posts.

Each team is allowed to have seven players in the water at any one time (six 'out-field' players and a goalkeeper). Other than the goalkeeper, you will see the other players moving continuously around the pool.

Water Polo is a thriving facet of our club. We compete at Regional and County level and currently run the following teams:

Minis&nbsp&nbsp&nbsp&nbsp&nbspUnder 13&nbsp&nbsp&nbsp&nbsp&nbspUnder 15&nbsp&nbsp&nbsp&nbsp&nbsp Under 17&nbsp&nbsp&nbsp&nbsp&nbspMen&nbsp&nbsp&nbsp&nbsp&nbspLadies

All of our teams up to Under 17 are unisex teams.

Our training times are as follows:

Wednesday 6.45-8.00pm - Mini Water Polo
Wednesday 7.00-10.00pm - Water Polo swimming training
Saturday 9.00-10.00am - Mini Water Polo
Sunday 3.00-7.00pm - Water Polo training and matches.
Training sessions are led by our qualified staff at the Life Centre, Plymouth.
If you would like to have two free taster sessions, please contact us via our
Join us page.

Alternatively you can come to the Life Centre at any of the above times.




We have over 100 years of Water Polo tradition. The above photo was taken at Mount Wise in 1934.


&nbspMini Water Polo


Mini Water Polo on Wednesday evenings and Saturday mornings at the Life Centre, Plymouth, for boys and girls aged 5 to 11 years old.

Mini Water Polo is a smaller, more basic version of Water Polo. Young players are taught the fundamentals of the full game by our qualified teachers and coaches. We believe this is a great way for a child to build confidence in the water while swimming, being part of a team, playing games, having fun, making friends and keeping fit and active.

Typically, our sessions comprise a half-hour swim session in deep water, followed by a half-hour game in standing depth.

If you would like to have two free taster sessions, please contact us via our
Join us page.



&nbspVideos of Match Action
Click on the playlist to choose the action you would like to view. The videos include action from the 2012 Paignton Festival of Mini Water Polo as well as highlights of matches involving our Masters (v Okehampton, Paignton and our Seniors), brief highlights of the Minis' victory in their first match at the Life Centre against Penzance and all the goals from our Ladies' thrilling encounter against Exeter as they clinched the Devon League.